(My Dad multi-tasking)
I have always loved my mother's garden,

but when I was young, I preferred a more formal garden look. The gardens I thought I liked were those with pruned hedgerows, gravelled walkways, symmetrical beds and a fountain in the center.
I used to stare at magazine layouts with that design and thought that is what I wanted. I mean,
it is beautiful
, isn't it? As far as architecture goes, my future home was to be in the storybook style, but always big--big windows, big entry, big facade. Inside would boast dramatic color, hand-knotted rugs, tapestries, elaborate mantels and so on. Drama, drama, drama.
Now, my plans are described by three words: cottage, comfort, and rustic.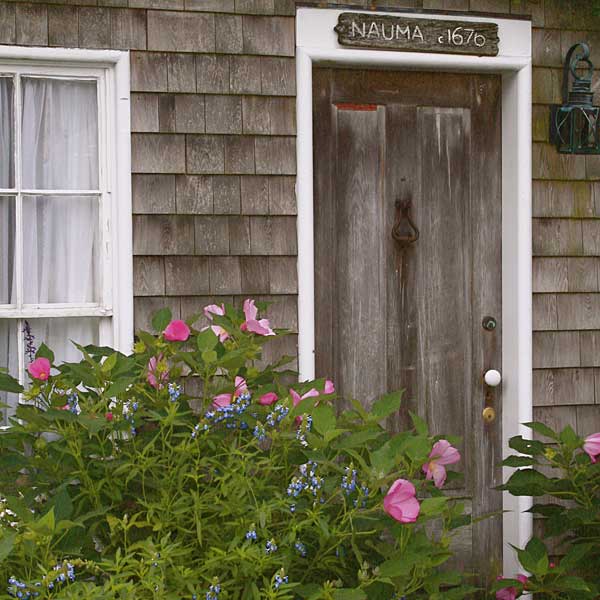 The cottage refers to the simple and cozy feel of both home and garden. I like meandering walks with surprise mossy benches, the flower beds that seem to ooze out into the path, shocks of bright color mixed with variations of green, and texture, texture, texture. Inside should be filled with warm colors, natural woods and soft chairs. Rustic can be a risky description because it is easily misinterpreted. You will
not
find a moose shower curtain or a plaid seat cushion or a bear carving in my rustic. You will also not find cowboy boot wallpaper, wrought iron branding rods or cow hide.
My interpretation of rustic is rough-hewn woods, a centerpiece of lavender in a galvanized bucket, and, generally, the outdoors, in.
I think this says something about my own growth. My thirty-third birthday is just weeks away. The drama of sixteen is long-since past (though I pull it out now and again). While I do still care what people think of me (who doesn't, I beg), I'm not going to wear clothes that are not comfortable. When people enter my home, I no longer care to impress, I just want them to feel like they don't want to leave . . . not just yet. I decorate my home with an aim for a feeling of Welcome Respite. You can leave your shoes on--or take them off if you are more comfortable barefoot. You can sit anywhere, you can take a nap on my couch, you can pick up a book and escape, if you'd like. A cottage garden allows for unexpected changes. If a large root is growing, you don't have to take out the tree in order to achieve that symmetrical flower bed, you just plant around it--you may even have to change the direction of your planned path, but who knows? Maybe you'll find a gnome door behind the trunk.
Isn't that the kind of thing you learn as you grow older and live as a parent? Take the good with the bad and
even the bad becomes it's own treasure
.
Sometimes we talk about our "Mansion above" or the estate God is preparing for us when we return to Him. Anymore, however, I don't care for a mansion and I'm sure He knows that. I have a feeling, my "mansion" will look a little more like my home.