The inspection is tomorrow, so we don't
actually
know for sure that our house plans will go through, but we're pretty confident. I am, therefore, making plans.
The living quarters is a mobile home that will be temporary (barring a zombie apocalypse, of course, then we'll stay). We won't want to put money into it, save regular maintenance to keep it happy while we're living there. But, no new kitchen cabinets, wood floors or tile jobs. And all of that is fine because it gives me plenty of time to work on landscaping, my favorite.
Justin wants a fire pit to be our
second
order of business (we need to mow and weed a bit first). I generally don't take on small projects, so instead of buying a pre-fab fire pit from the Costco, I want to re-create something more like our fireplace from the old house.
It was old, old and some of the rock from the chimney was broken down by the neighbor kid.
I know. That particular neighbor kid made me a bit nuts.
I loved that fireplace. I would make a few changes because it was a little small and was too close to the fence. I thought I would see what else was out there.
I like how the fire is off the ground. It would make it easier for more people and roasting sticks to benefit from it's warmth.
Ooo, an outdoor mantle!
This last one is my favorite. I love the rustic, moss covered stones. Very natural. It looks like it was meant to be there.
For now, we want to just put up the fireplace, but eventually, I envision a vine-covered pergola nearby with an outdoor eating area. I want to build a fireplace hook into the mortar between the rocks.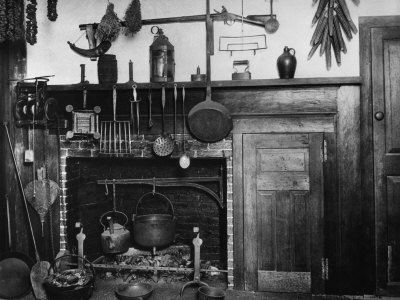 Not this elaborate, but something on which we could hang a pot of stew in an emergency.
I'm hoping to use stones from the area around the firebox, then I'll dress the rock in a yogurt mixture that will help the moss grow more quickly. I'm so excited about this project. I'm sure my favorite book,
Back to Basics
, will teach me how to do it! It won't go just as planned, of course, but I'll chronicle the building of the thing as I go for you.
First, we need to sign the papers. Geesh. So many details!