On our drive home, the air was FULL of smoke. It wasn't a distant kind of smoky smell, it was campfire all around us. I knew there was a forest fire, but we couldn't see it. As it started to get dark, I could see a red haze just above the mountains we were driving toward. Then, driving around the bend, we saw this: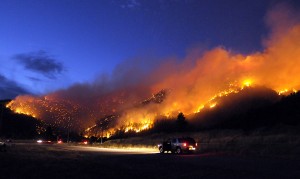 Though I have seen many pictures of wildfires and seen the evidence of the fires after they were gone, I had never actually seen a fire burning an mountainside. I snagged that picture from the news because this is what our pictures look like:
Don't worry. My daughter took the pictures while I was driving.
My camera isn't built for night shots, but this last one shows something the news camera didn't catch. Look how close that fire is to the town. It was racing down the hill and after just two hours after the fire was started it engulfed the area.
Everyone was evacuated safely, but I was so worried about those families. It made me want to come home and re-evaluate our emergency preparedness. Now that we live in a forested area, I wondered how we would do if we had only minutes to evacuate. Not super well, I'm afraid. Our move roughed some things up and I need to organize again.
You?