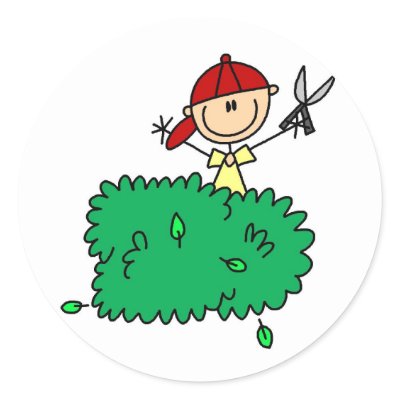 As you know, we are trying to take a trip to Disneyland to celebrate my husband's graduation from pharmacy school. Our entire tax return was supposed to go toward paying for the trip, but we've had to dip into that account for, you know, food and stuff. We've made finding another source of income a matter of sincere prayer and last week, that prayer was answered.
There is an incredible house at the end of the road where I grew up (and where my parents and sister still live). The lady who lives there hires teenage boys to help with yard work.
As you also know, I love gardening. When I was trying to think of a way I could earn money, I thought of her. It took me several days to make the call. You see, she hires
teenage boys
. I had to talk myself into swallowing my pride to ask for a job usually filled by, frankly, my son (yes, he worked for her last summer). Even after she said she would hire me, I felt kind of stupid about it.
Last week, I went to work. It turns out, I was just who she needed. She has had boys (unskilled labor, no matter how hard they work) doing the work for so long that her gardens are in desperate need of someone who knows what they are doing. (I know I don't know all there is to know, but I do have a bit of experience under my belt.) I worked Friday and Saturday clipping and pruning and raking and pulling and Sunday I couldn't move. OK, not really, but my muscles were pretty sore from a long winter of sittin' around.
I decided I would love to be the gardener--you know, like in all of the olden day books; the crusty old man who works in the garden year-round.
Anyway, I have this new part-time job for the next two months, but I am also still home schooling these darling children of mine. I'm going to really have to tap into my classics for ideas on how to keep school going while I am kneeling over the dirt. Ideas so far:
recite times tables
have a spelling bee
listen to books on tape
memorize poems, scriptures and short literary passages
That's it. That's all I've got. My girls will be with me in the yard so we can bring some school supplies with us (like a notebook), but not a desk or encyclopedias. And I can't take time away from my employer really sit with them to work out a problem, work on a project, or read together.
Do you have any other ideas?