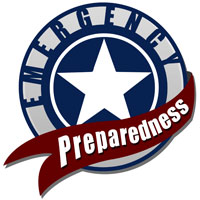 For months and months, I have been wanting to have a meeting with my neighbors. I read in the paper about a woman who had invited her neighbors over to talk about how they would self-sustain in an emergency situation--especially one where the public response team couldn't get to them right away. I thought it was a great idea, but put in on the back burner because I couldn't offer a meeting place.
In the summer
, I thought.
Summer came and it was a busy one. I decided to have the meeting at the end of July. But then the hornets came--in waves. We couldn't have our meeting in the back yard or we would have been swarmed. Toward the end of August, I finally decided to just do it! There would always be an excuse because, truth be told, I was nervous about it. (People often move to my part of my state to get away from nosy neighbors!)
One of the things I'd read along the way was a story that convinced me to grit my teeth and get over my nerves. There was a terrible firestorm in 1993 that burned hundreds and hundreds of homes in Washington and California. The fire department ordered quick evacuations of large neighborhoods. Even with this, many people lost their lives. One among them was an 84 year old woman.
Her son said, "If our neighbors had talked before the fire the way we talked after the fire, my mother never would have died. They did not know she was there!"
We have many elderly on our street, some of whom don't drive. Imagine how sick we would be if we were suddenly evacuated and we didn't know our neighbors needed help!
I made up fliers and Justin and I walked around inviting our neighbors, many of whom I'd never met, to a pot luck,
get to know you
type of first meeting. To my surprise and great relief, everyone thought it was a great idea. The dinner was supposed to begin at 6 PM. It rained all afternoon. I knelt by my bed and offered an earnest prayer that the rain would stop so that the gathering would be successful.
The rain stopped at 5:50.
We had many of our neighbors show up for the pot luck and we enjoyed good conversation and lots of
getting to know you
. After the meal, I explained why I'd wanted to have the meeting. Not only do we have many elderly, but I have a house full of young children. If I was at the grocery store and there was a 5 minute evacuation order, I sure would like my neighbors to know my children could need help! We explained 72 Hour Kits and I handed out pamphlets from the American Red Cross. That was the end of what I had planned, but our neighbors wanted more. They initiated a discussion about block watch, food storage, water storage, skills and resources. They even suggested we make it a quarterly event and that we rotate houses. It was an encouraging meeting and I felt like it was a resounding success.
The rain started right back up as soon as I had the food cleared and the chairs put away.
The next day, a terrible lightening storm blew through. It struck this tree which is mere feet away from the picnic table where food was served. It was pretty freaky!
We were spared from a forest fire this time because of the heavy rains the day before, but it seemed like the Almighty was giving us a pat on the back for making the effort to be prepared--and giving us a stern reminder that preparation is necessary!
From the very beginning, I felt the Lord's hand, encouraging me to carry on. It is a testimony to me that,
just like Nephi of old
, when Heavenly Father asks us to do something, he does not abandon us. He will help us all along the way.
1 Nephi 3:7
And it came to pass that I, Nephi, said unto my father: I
a
will
go and do the things which the Lord hath commanded, for I know that the Lord giveth no
b
commandments
unto the children of men, save he shall
c
prepare
a way for them that they may accomplish the thing which he commandeth them.