Isaac rehearsing for 2014 NY Finals.
Isaac has once again qualified for Youth American Grande Prix (YAGP) Finals in New York City.
This year, I'll be taking the baby and my 18 year old nephew.
I'm actually super excited. We had been saving up to bring Isaac home for his Spring Break, but it looks like Spring Break will be spent in New York. Most importantly, I'll get to see my boy before July!
While I've never been to the Big Apple, I am fairly well-traveled and am good at reading maps and asking directions. I haven't been nervous about going to the big city, other than making sure I get Isaac to his classes and performances on time.
Until this morning.
This morning I logged onto a site called
Tips for First Time Visitors to NYC.
I was greeted by a picture and caption: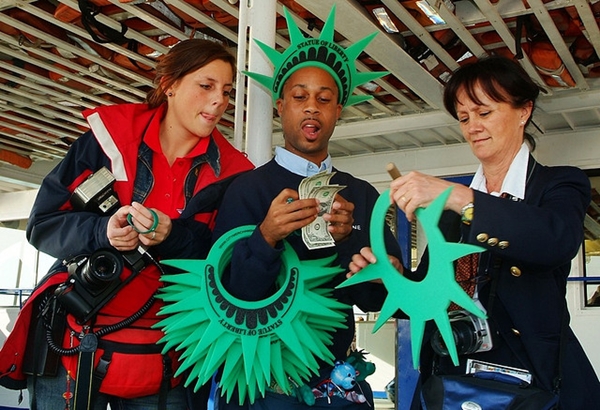 "Trust us, New Yorkers don't dress up like the Statue of Liberty."
All of the sudden, I got a wiggly tummy.
I'm not going to try desperately to not look like a tourist because that's precisely what I'll be!
But I also don't want to look like a fool.
Isaac and Kevin, you CAN'T let me buy a Statue of Liberty hat!
After all, I might run in to Tim Gunn.